An Eldorado Canyon group event is a custom group event for groups of 24-150 and more. We can work with you to arrange the perfect combination of activities. Every group event is "Custom" and can be set up to meet your client's interests and needs.
For DMC, please contact us at reservations@awesomeadventures.com
For Travel Agencies or other Large Groups, please contact us at reservations@awesomeadventures.com
Where Is Eldorado Canyon?
Click The Items Below To Read More
Overview Of Group Event
What Is Included In A Group Event?
All group events are "Custom Events", the activities can include pretty much whatever you or your client desires (within reason of course!). Activities to choose from are:
ATV And RZR Tours
Techatticup Gold Mine Tours
Hatchet Throwing, Jenga, Corn Hole, Horseshoes
Transportation
Meals
Bonfire & Smores
Professional Photography, DJ, Mobile Bar
Is Transportation Included?
Transportation included for group events. Call for details
How Long Do Group Events Last?
Group events may vary due to activities selected. 3 to 5 hours in Eldorado Canyon, not including the round trip driving time of approximately 2 hours. Of course, since all group events are customized, your event can last as long or as short as you needed it to.
Are Meals And Beverages Included?
Yes! We have many options available, please call for details.
We have a covered structure area that can seat up to 100 people.  We can also include a bonfire at the end of the day, sitting around the fire pit sharing stories about their day and having smores.
Bottled water is provided for all custom events!
For pricing, please provide the following information:
Number of participants, date of tour, time frame, list of activities wanted. Email information to: reservations@awesomeadventures.com
Option 1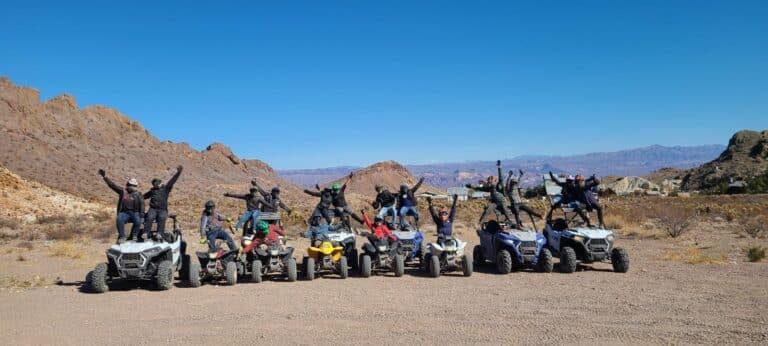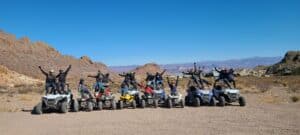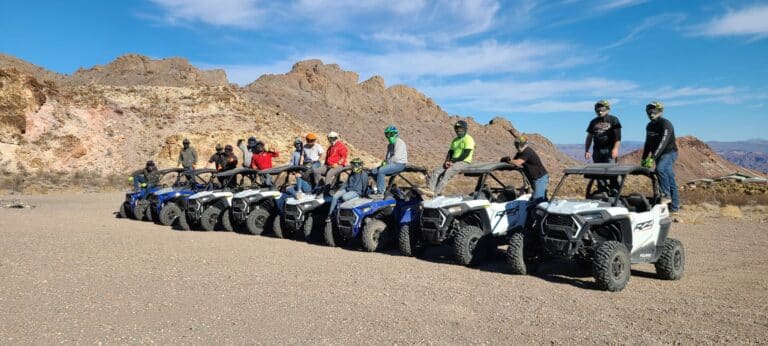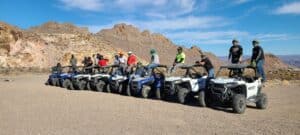 75 min ATV/RZR Tour Only
Up to 32 people per shift X 6 groups = up to 192 per day
Transportation: Roughly 45 -55 min from strip
Tour Includes: safety gear, helmet, helmet sock, goggles, & gloves. No Experience necessary, the tour guides will go over safety instructions on how to use the equipment. The guided ATV scenic tour is roughly 60 min ride time and 15 min gear/safety instruction. Traveling through the beautiful "Eldorado Canyon" with breathtaking mountainous terrain. 30 minute sightseeing & photos.
Bathrooms on site and water provided
Option 2
75 min ATV/RZR Tour & 75 min Gold Mine Tour & Sightseeing & Photos
World-Famous "Techatticup Gold Mine Tour" where you will be taken back in time to 1861 with amazing historical stories of what the miners had to endure and the tools they used, plus unique out of this world antiques. The gold mine tour is roughly 60 – 75 minutes, you will be amazed by what you see. Several movies, music videos and reality tv series have been filmed here.
Option 3
Time Frame 4-to-5-hour Event – once arrived at location
Up to 100 people
Group events can be custom to your time frame and the amount of guests
These activities are divided into 3 to 4 group events throughout the day
Group A-ATV/RZR Tour; Group B-Gold Mine Tour; Group C- Game/Activities
Group D-Scavenger hunt or Bonfire or lunch
Games/Activities Include: Hatchett throwing, Corn Hole, Jenga, horseshoes
Each Shift is estimate time frame 60 min. then switch groups
Cratering Service for Lunch or dinner & Bar Service (provided by DMC)
We will work with your Cratering/Bar Service Companies with location power & water.
Timeline Examples
Each group event is customed, we can provide some ideas of timelines, schedules. Below we have provided some actual timelines from recent groups on this page, to give you an idea of how different groups plan their events. We can tailor your group event to meet your activity choices, and of course your available times for your group.
Most asked questions:
How long to travel to location? 45 to 55 min from the Strip
How long are Group Events? Depends on what activities you want to included 75 min. to 6 hours
Are Meals and Beverage? Yes, we can provide meals, please contact us for pricing
We have a covered Structure where events can be held seating up to 100 people.
We provide table and chairs
Information Need to quote event:
Number of guests, Date, Number of Activities you want to do; Time Frame
Custom Group Event Request Form
Please complete and submit the form below to receive a quote for group event