Select Your Old West Adventure Tour Vehicles!
Experience four excursions all in one tour! If you choose the Old West Adventure tour, you will have the adventure of a lifetime that includes a fully guided tour, GOLD MINE Excursion, games, sightseeing, free hotel pickup, free lunch and digital photos to immortalize your off-roading adventure.
Simply select the vehicle you'd like to add to your tour below. If you are interested in multiple vehicle types select 'make another booking' at checkout and add the other vehicle from there! We can't wait to see you!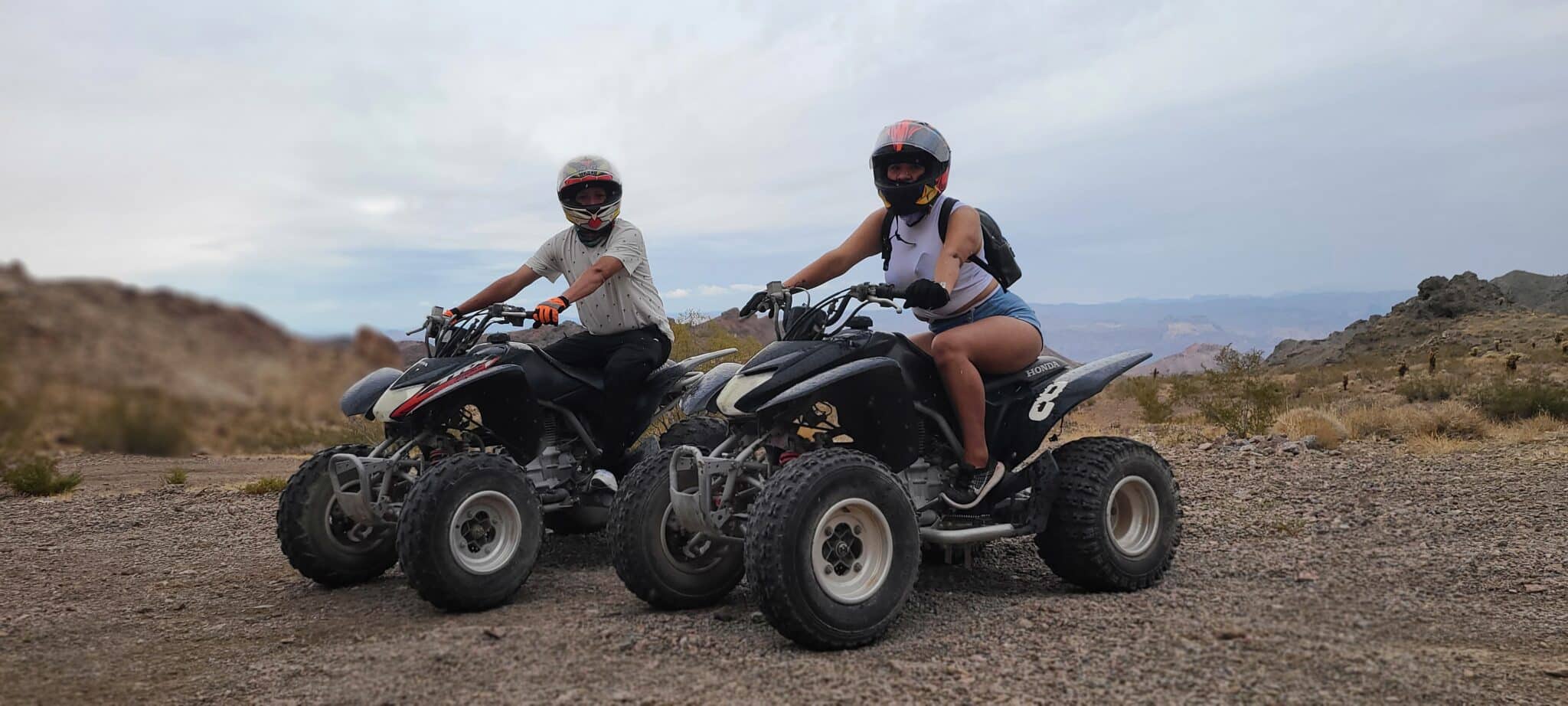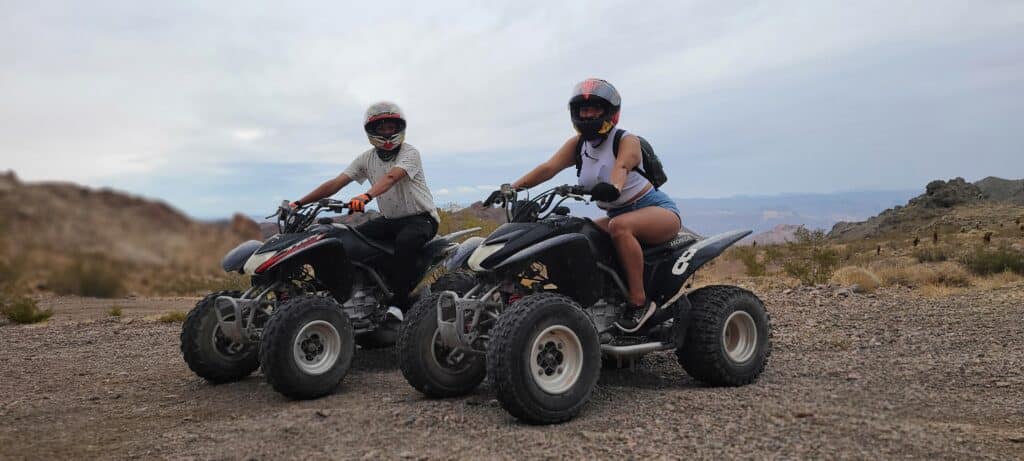 All Terrain Vehicle (ATV)
Uncover a realm of sandy trails, rugged rocks, and unparalleled excitement with the dynamic prowess of this single-seat ATV. Ideal for groups where each individual desires complete mastery over their journey!
Book Now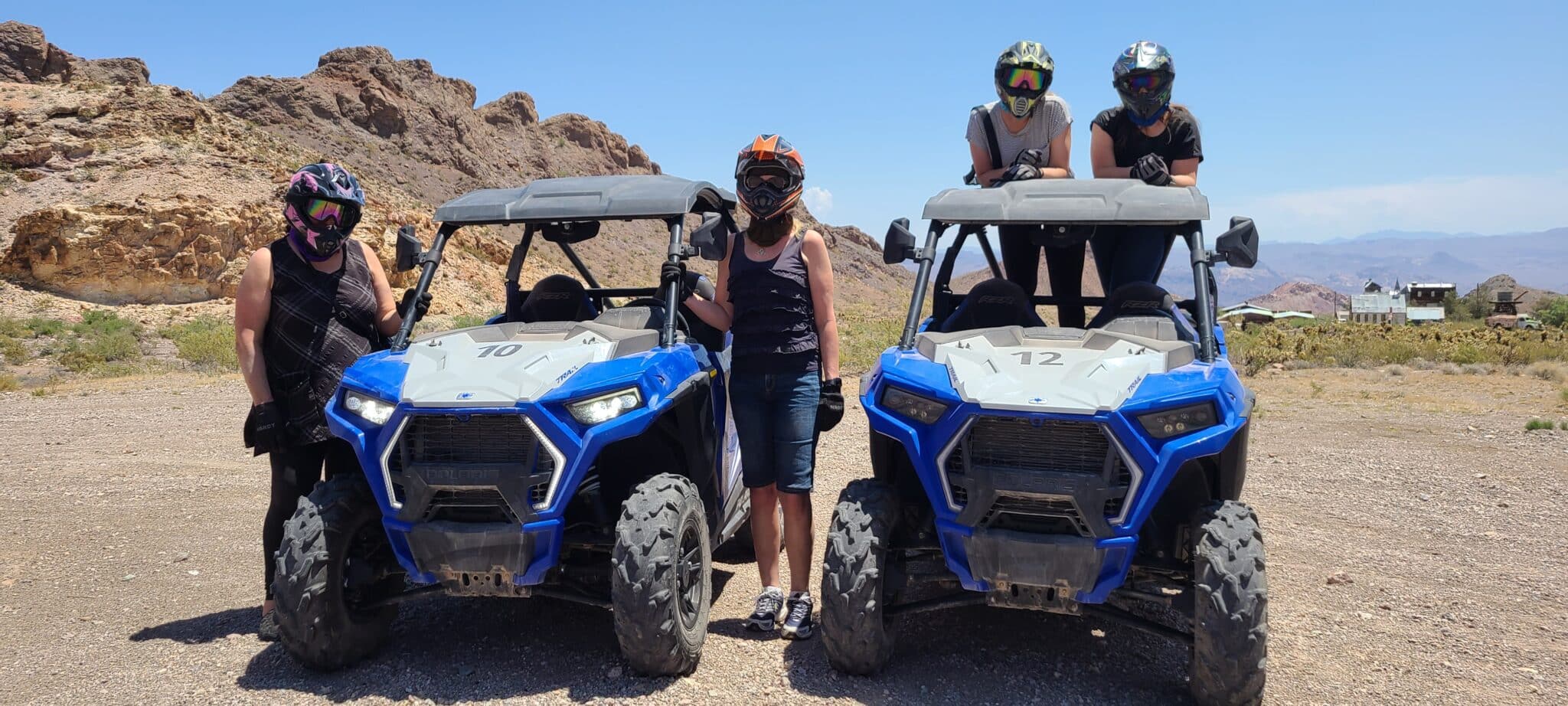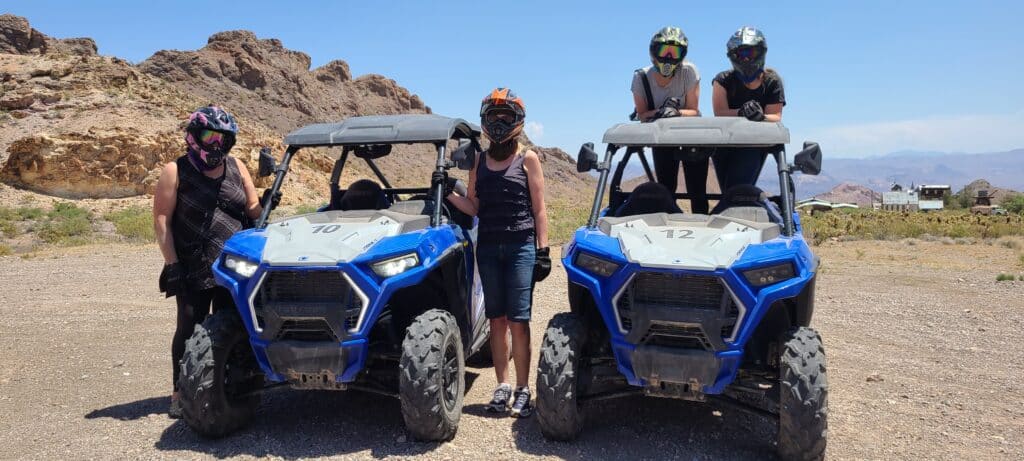 Polaris Razor (RZR/UTV)
Transform each journey into a memorable escapade with the unmatched flexibility and extraordinary potential that only the GENERAL can offer in the desert. This dune buggy can comfortably accommodate up to 2 passengers.
Book Now
Discover the Excitement of an ATV Tour Las Vegas Adventure.
An ATV stands as a swift, single-seat off-road vehicle tailored for engaging and direct rides. Navigating through Eldorado Canyon's varied landscapes on an ATV provides an individualized journey, letting riders intimately connect with every curve and nuance of the terrain.
$254 per ATV
1 Rider Per ATV
Ages 16+ can drive with a valid driver's license
Ages 17 and under must have a parent or guardian
The Old West ATV tour features the Gold Mine tour and includes all gear and water; no experience is necessary. It's approximately 75 minutes of ride time and offers unique sightseeing opportunities, free photos and lunch, and our VIP Service!
Book Now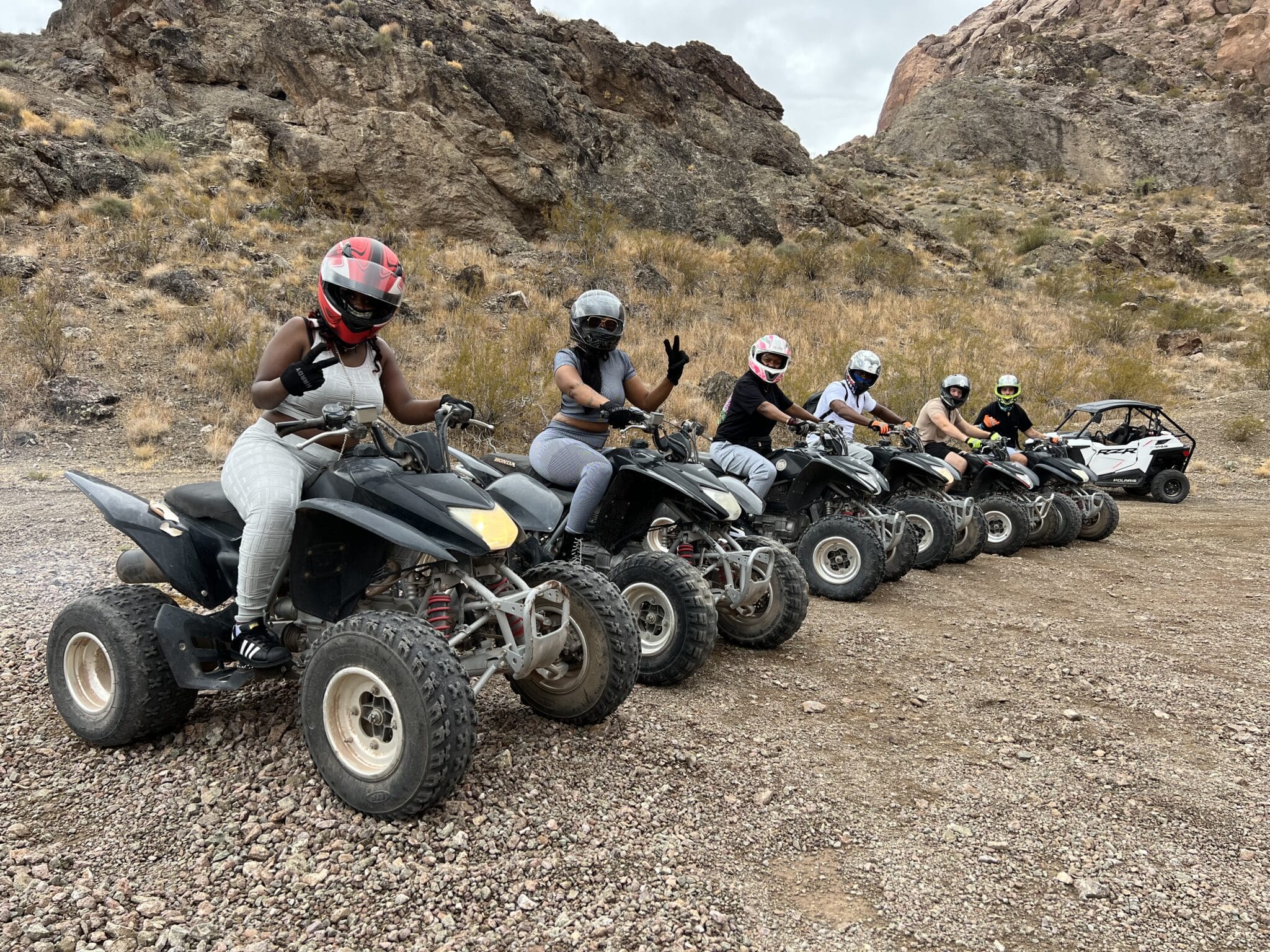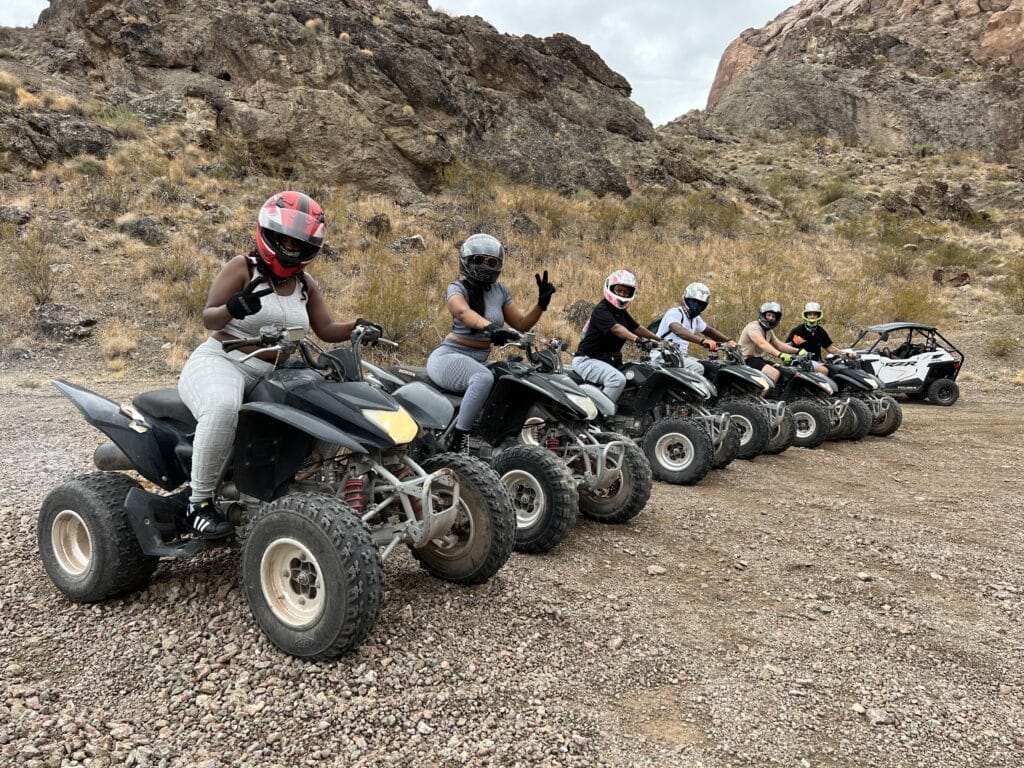 Journey with us in a Dune Buggy on this Unforgettable Tour
Our Polaris RZR otherwise known as a "Dune Buggy" comfortably seats two, melding coziness with thrilling escapades. Venturing through Eldorado Canyon's expansive landscapes in a Polaris RZR promises an unforgettable adventure, perfect for companions seeking to explore together. With its stable design and spacious seating, the dune buggy guarantees that both occupants can fully enjoy the canyon's picturesque vistas and exhilarating paths.
$544 per RZR
1 or 2 Riders Per RZR
Ages 18+ with a valid driver's license and credit card
Join us for an all-inclusive RZR/Ranger tour guided journey that takes you through the Gold Mine tour. We provide all equipment, hotel pickup, water, and lunch; no prior experience is needed.
Book Now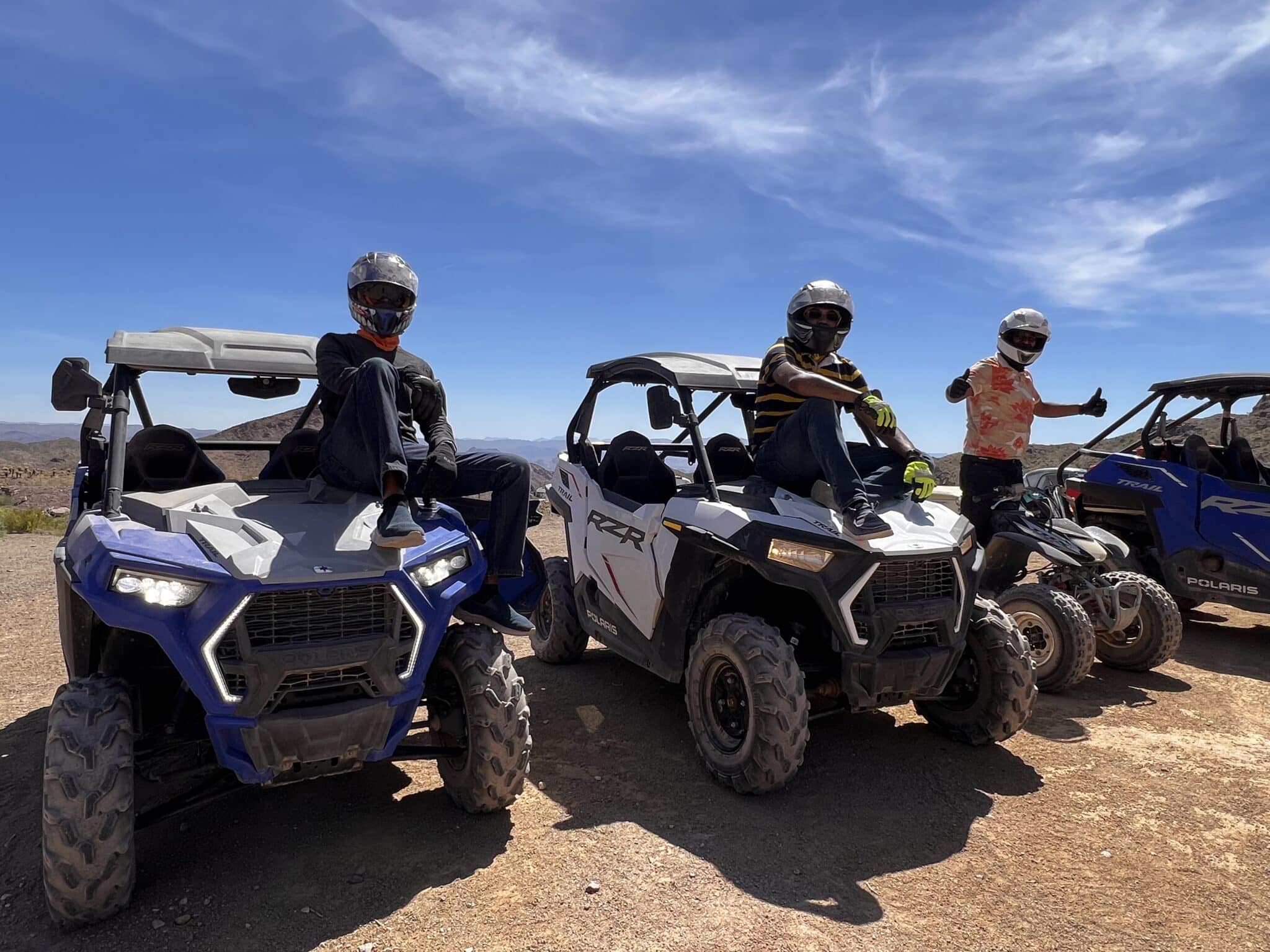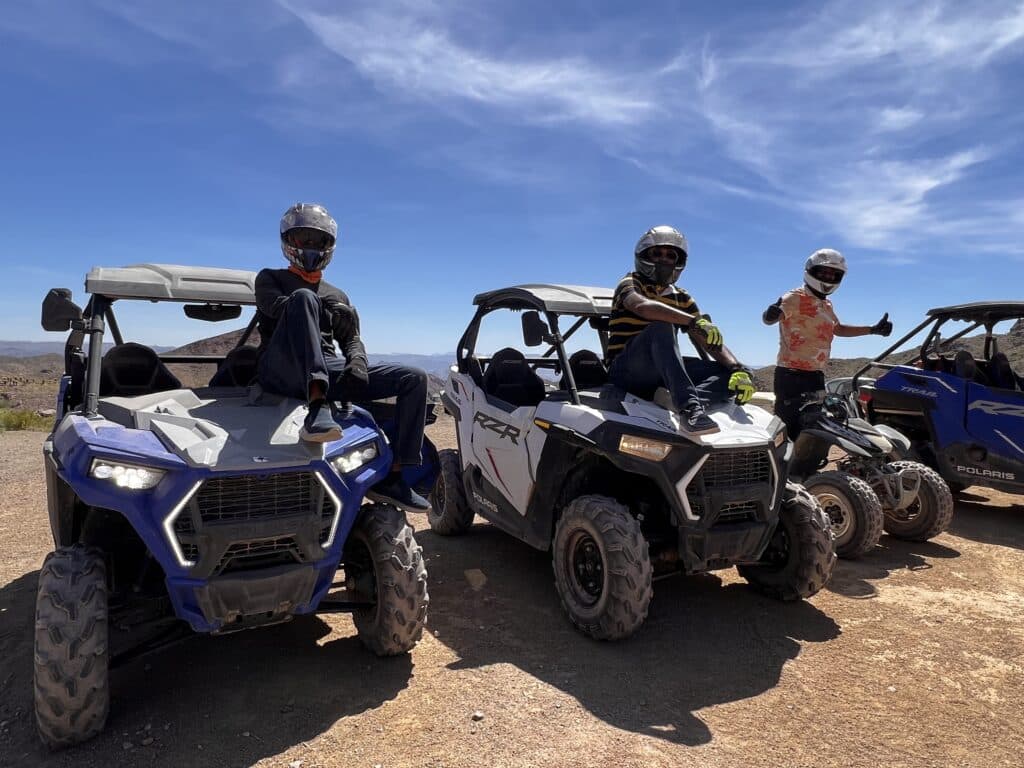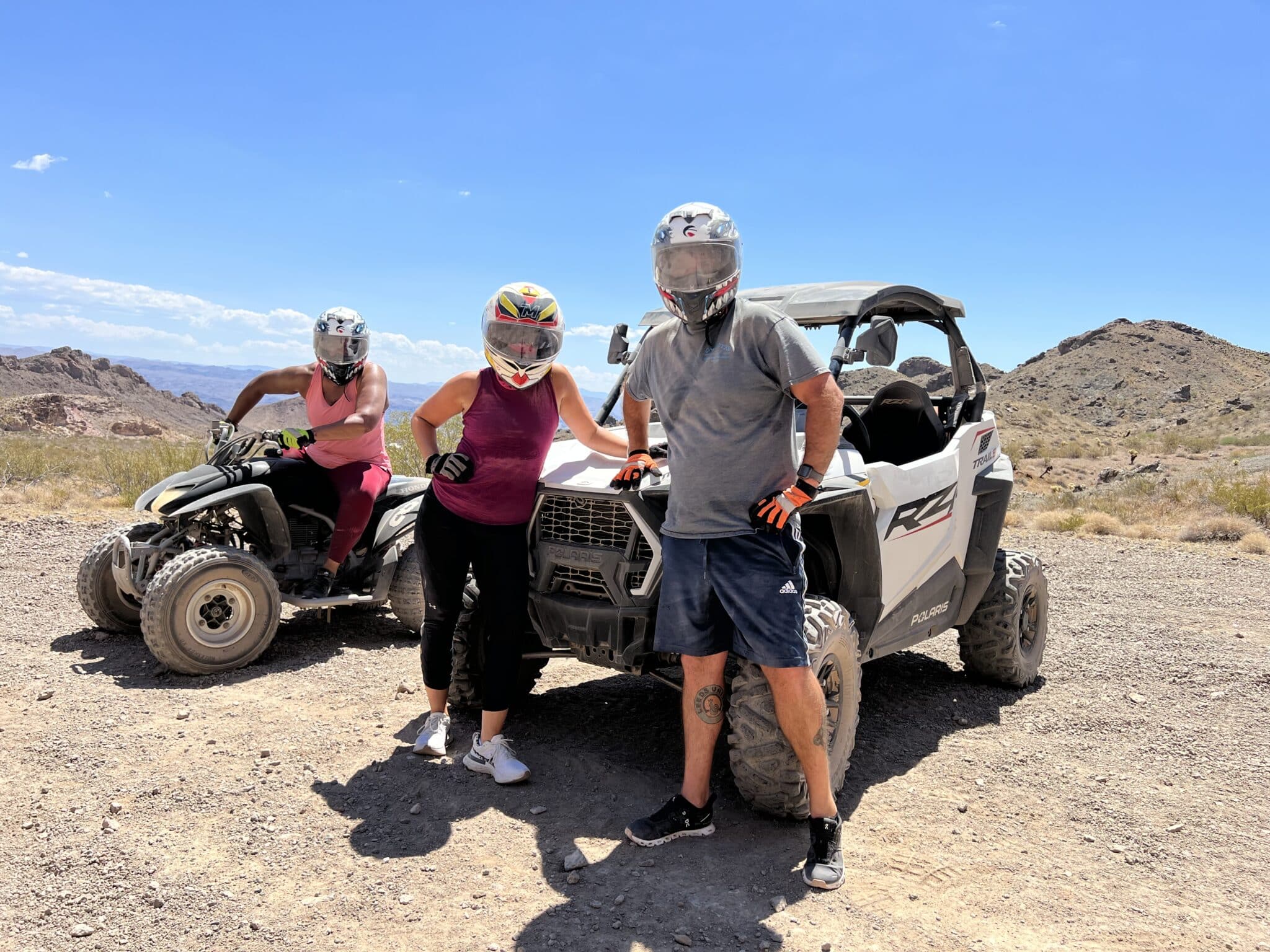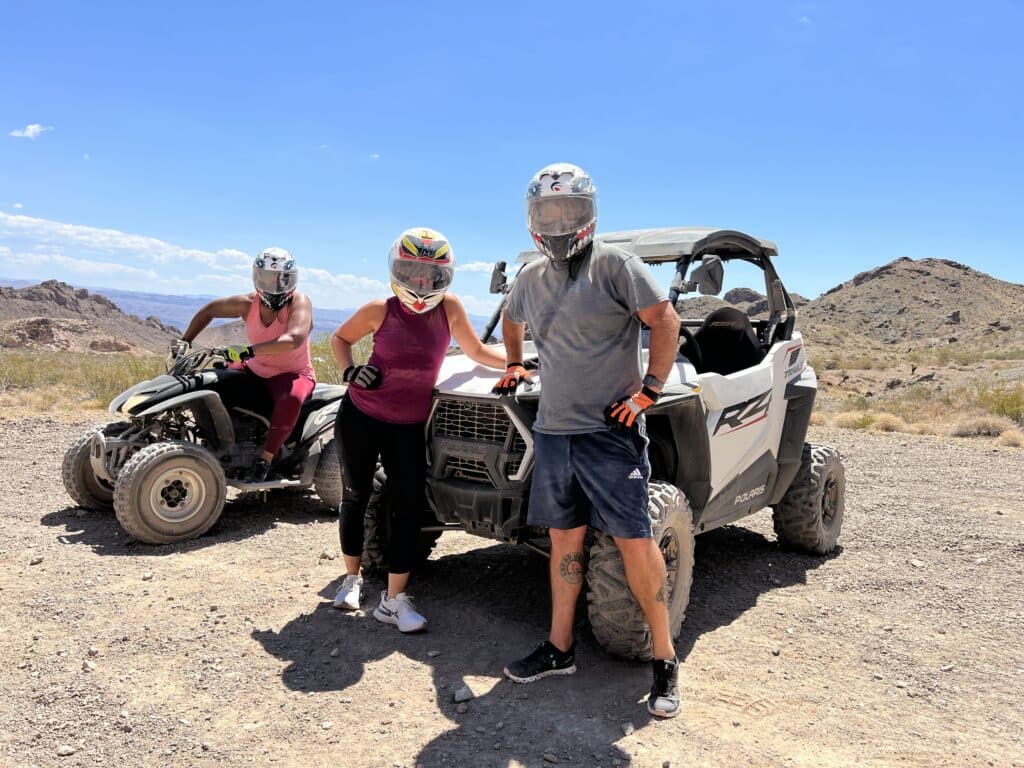 Book now and have the time of your life!
Some quick rules (more tour policies and dress code listed below):
Reservations must be confirmed 48 hours before your tour with hotel pickup, lunch selection, credit card on file for incidentals, and your email address
For safety reasons, we do not allow expectant mothers to ride an ATV or drive a 2-seater Razor due to the terrain, which may include bumps, rocks, fast turns, speed, dips, and ruts. These activities could risk the safety of the mother and unborn child.
Due to the terrain, the average speed is roughly 15 to 30 mph. The guides are in charge to keep everyone safe, and it is at their discretion
ATV – Ages 16 to 18 to drive with parent/guardian present and valid driver's license
ATV – Ages 18+ to drive with a valid driver's license and credit card
RZR – Ages 18+ to drive with a valid driver's license and credit card
RZR – Minimum age to ride is 7 with parent/guardian driving
No experience necessary
A minimum of four people to operate the tour
Weight limit – Minimum is 60 lbs, max is 375 lbs
Shoes – You must wear closed-toe shoes
Must wear a helmet (We provide the gear)
No drinking or being intoxicated!
Clothing- Recommend long pants and dress appropriately for the weather
This is a one-of-a-kind Old West Adventure
Old West Adventure Tour – 6 – 6.5 hours long
Includes four excursions all in one tour!
When you book with us, you can look forward to the ultimate VIP treatment. We pick up at most major hotels for your convenience, and you can look forward to a day packed full of fun and adventure! The trip from the hotel to the destination is 45 to 55 minutes both ways.
Sightseeing/scavenger hunt/photos – Come see why this is the best-kept secret with all the vintage equipment, one-of-a-kind cars, Old-West buildings, and a wealth of rare antiques. Famous movies and music videos have been filmed here, and professional photographers love this destination. We are excited to share it with you.
Your 2-seater Polaris RZR or Single Rider ATV Tour – This tour will go on an epic scenic tour through the majestic Eldorado Canyon landscape with striking panoramic views. No experience is necessary; we will supply you with all the gear and safety instructions, and all tours are guided. During your tour, the guides will take photos to capture your memorable day. Next, enjoy lunch with breathtaking views.
Lunch/Games – Enjoy your gourmet lunch, made fresh daily. You can choose between a steak, chicken, turkey sandwich, or salad with chips, cookies, and soda. We provide old-fashioned games to play and have fun with your group. Hatchet throwing, Cornhole, darts, horseshoe, Jenga and Nail It!
Gold Mine tour – Our Historic, World-Famous 1861 Gold Mine tour is a "must-see" with all its hidden treasures. We will take you back in time to hear the amazing stories of how the miners worked, lived, and what they endured. You will truly be amazed and have memories to talk about for years to come. Don't just take our word for it; see what our previous guests have to say about what is undeniably the best ATV/RZR tour Las Vegas has to offer.
Benefits of Choosing Awesome Adventures Old West Adventure Tour
Quick Details
Ages: 7+
Location: Eldorado Canyon (45 minutes from Las Vegas)
Duration: 6 – 6.5 hours
Old West Adventure Tour duration
6 – 6.5 hours including transportation!
DAILY
9:00 AM – 4:00 PM (October to March)
7:30 AM – 2:30 PM (April to September)
View our Tour policies and dress code