New experiences are on the horizon! Embark on an epic journey through breathtaking landscapes, conquer trails, and create memories that will last a lifetime. Get ready to rev up your adventure game with us at Awesome Adventures! Whether you're a seasoned adventure seeker or a curious novice with zero experience, we have a tour for you. Our trained guides are ready to give you the instruction, training, and safety rundown before riding into your new fun-filled journey. It's time to fire up those engines and let the excitement begin.
What is included in your ATV tour package with Awesome Adventures?
When you book with Awesome Adventures, you can choose among a variety of outstanding tour options. 
All Awesome Adventure tours are noobie-friendly. So, even if you've never sat on an ATV before, you can go from novice to knowledgeable in no time with the help of our trained instructors. All of our tours are guided, so if you lack experience there is always a qualified instructor close by to answer any questions and provide you with the support and encouragement you need to feel confident behind the wheel of our ATVs.
Awesome Adventure tours, Las Vegas, offers two primary ATV tours for your enjoyment: full-day and half-day tours.
Old West Adventure Tour
If you have a whole day in front of you with nothing to do and you want to find a way to explore the awe-inspiring natural wonders surrounding Las Vegas, then the full-day ATV tour is your dream come true. When you arrive, our friendly and experienced guides will provide all the necessary safety instructions and gear, ensuring a worry-free and enjoyable adventure for everyone. 
The full-day ATV tour includes six to seven hours of unforgettable scenery and joy exploring Eldorado Canyon, the site of the mining boom. Our unique full-day tours consist of the following:
Transportation to and from your hotel
Approximately 75 to 90 minutes of ride time
Sightseeing
Photos
Lunch
VIP service
Safety gear and instruction
Water
Discover an experience that no other company offers. You'll get three excursions all in one tour!
Your first excursion entails sightseeing, a scavenger hunt, and photos! This is the best-kept secret and you will get to explore a destination that transports you back in time. You'll get a glimpse of vintage equipment, Old West buildings, and rare antiques. Not to mention this is a place where famous movies and music videos have been filmed.
Your second tour will take you through the magnificent Eldorado Canyon to witness the beautiful landscape and picture-perfect views it has to offer.
Your third excursion is a must-see! Filled with hidden treasures ready to be uncovered, the Gold Mine tour is sure to amaze and captivate.
Eldorado Canyon Tour
If you find yourself a little short on time but still want to experience the fun and excitement of an ATV tour like no other, then an Awesome Adventures half-day tour is the perfect solution. This tour is approximately 3.5 to 4 hours in total, but don't let the time constraint deceive you. This tour offers just as much excitement and adventure as its full-day counterpart. On your half-day tour, you'll enjoy all of the following:
Transportation
Approximately 60 minutes of ride time
Safety gear and instruction
Out-of-this-world sightseeing opportunities
Free photos
VIP service
Water
The option to add lunch or snacks at an additional charge
An awesome adventure you won't find anywhere else
Just like with the full-day tour, you'll get to see old west buildings, rare antiques, and more while embarking on a scavenger hunt complete with photos and sightseeing. Your second excursion entails an epic scenic tour through the Eldorado Canyon landscape and is sure to be like nothing you've ever seen before.
Do I need any prior experience to join the Awesome Adventures ATV tours?
With Awesome Adventures ATV, Las Vegas, tours, prior experience is not necessary. We encourage anyone who wants to try a new adventure to book a tour with Awesome Adventures, even if you've never even considered an ATV excursion. This is a fun and unique experience that can and should be enjoyed by all, even if you have never ridden an ATV before. This is a wonderful way to pass the time and enjoy the beauty surrounding you in a new and unforgettable way.
You can gain peace of mind knowing that during the entire excursion, you will be guided by our qualified instructors. Upon arrival, your instructor will educate you on ways to stay safe, how to operate your ATV, and provide the appropriate safety equipment. We have everything covered. From the moment you book with Awesome Adventures, everything is taken care of and you can get back to enjoying your vacation and look forward to ATV riding in Las Vegas with Awesome Adventures.
What is the minimum age requirement for the ATV tours?
Awesome Adventure tours are great fun for young and old. Our tours are available for children aged seven and older when riding with a parent or guardian. Ages 16 and older are permitted to drive our top-of-the-line ATVs. Awesome Adventures is a family-friendly experience, and we want the whole family together and have a great time while in Las Vegas.
Book one of our Eldorado Canyon tours today and enjoy an experience like no other!
How do I book an Awesome Adventure ATV tour?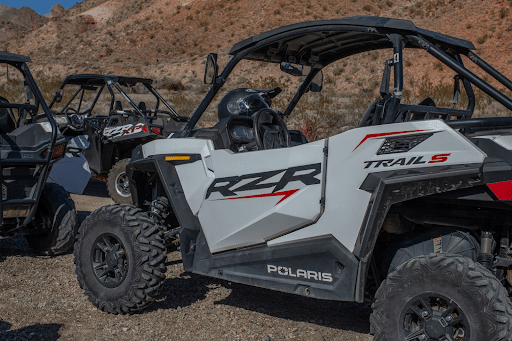 We have made booking a tour with Awesome Adventures quick and easy. You can book online by clicking on one of the links below. Ride full throttle into your next Awesome Adventure with an ATV tour in Las Vegas!
Book your half-day ATV tour today!
Enjoy a full-day of ATV riding by booking now!
We also have RZR tours available for those who want an alternative to an ATV. Book a RZR tour online with one of the links below!
Awesome Adventures is dedicated to meeting the needs of all of our customers and ensuring everyone has a rip roaring good time. We want everyone to know that you do not have to have any prior experience to book with us. Our experienced and knowledgeable instructors will provide you with all of the information and safety gear you need to ensure you have an awesome experience while making safety a priority! Don't wait, book a tour with Awesome Adventures and add a new adventure to your Las Vegas vacation photo album!
Sources:
Book Now and have the time of your life!
MUST WEAR CLOSED-TOE SHOES!
Reservations must be confirmed 48 hours before your tour with hotel pickup, lunch selection, credit information, and your email address
For Safety reasons, we do not allow Expectant Mothers to ride an ATV or drive a 2-seater Razor. Due to the terrain, which may include bumps, rocks, fast turns, speed, dips, and ruts. These activities could risk the safety of mother and unborn child.
Due to the terrain average speed is roughly 15 to 30 mph. The guides are in charge to keep everyone safe, and it is at their discretion
ATV – Ages 16 to 18 to Drive with parent/guardian present and valid driver's license
RZR – Ages 18+ to Drive with a valid driver's license and Credit Card
RZR – Minimum age to ride is 7 with parent/guardian driving
Ranger – Minimum age to ride is 7
No experience necessary
Minimum of 4 People to Operate Tour
Weight Limit – 60 to 375 lbs
Shoes – You must wear closed-toe shoes!
No drinking or being intoxicated!
Clothing- Recommend long pants and dress appropriately for the weather
View Our Tour Policies and Dress Code