What Are Some Adventurous Hobbies?
If you're feeling like your free time is a little too ordinary, it might be time to add some excitement with an adventurous hobby. There's no shortage of thrilling hobbies that will get your heart racing and give you an adrenaline rush.
Here are nine adventurous hobbies to try out the next time you're looking for something new and exciting:
1. Skydiving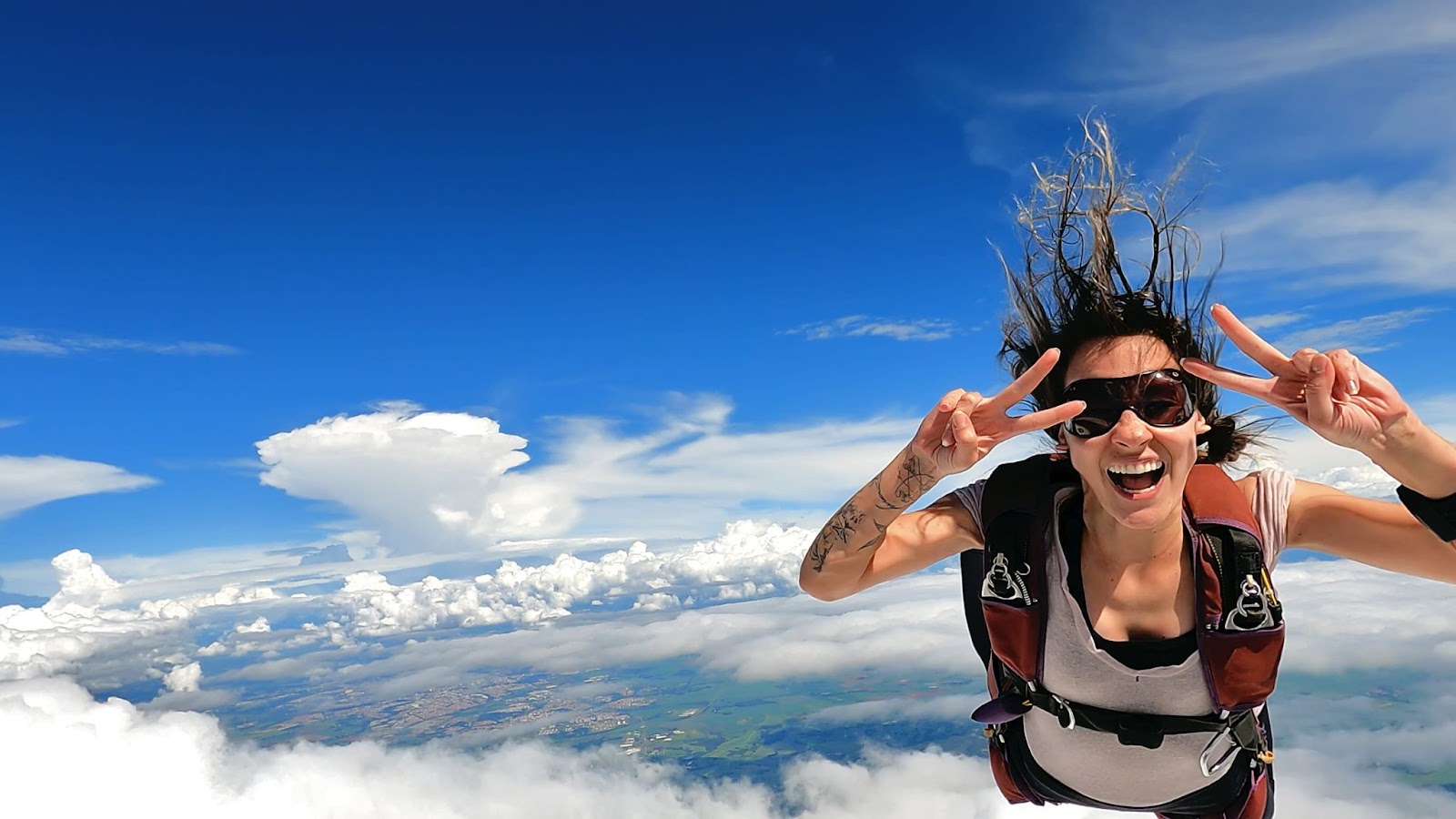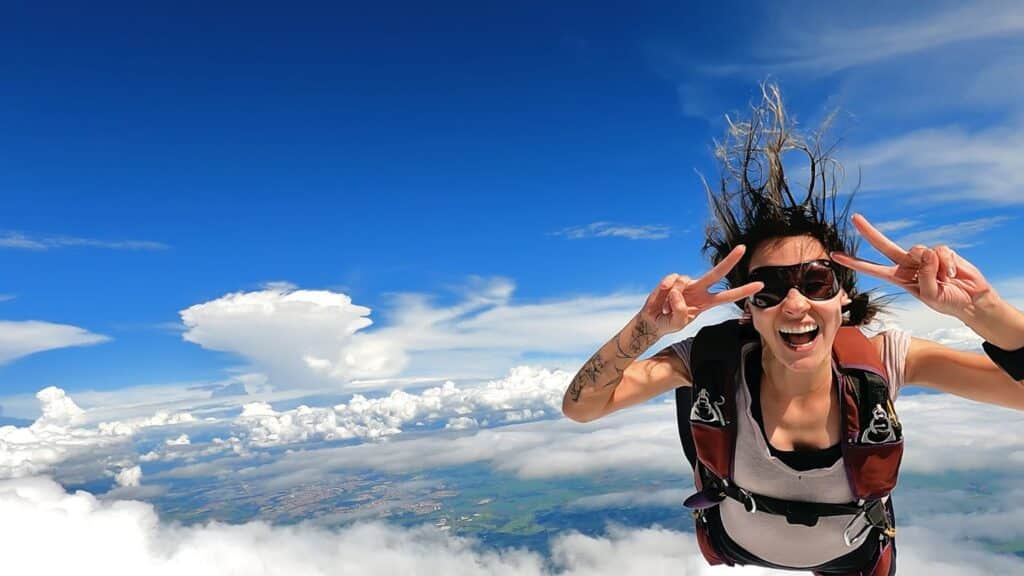 Skydiving is the ultimate thrill-seeker's hobby. Jumping out of a plane at high altitudes is an experience like no other. The sensation of freefalling through the air at speeds up to 120 mph is liberating and adrenaline-pumping.
Whether you're an experienced skydiver or just starting out, there's nothing quite like the rush of jumping out of a plane.
If you're interested in trying out skydiving as a hobby, the first step is to decide where you want to skydive. There are many drop zones around the world that offer skydiving experiences for beginners. It's important to do your research and choose a reputable dropzone with experienced instructors and modern equipment.
There are two ways to skydive: tandem and solo. Tandem skydiving involves jumping out of a plane with a trained instructor who is harnessed to your back. It's an excellent option for beginners who want to experience the thrill of skydiving without the responsibility and risks that come with diving alone.
Solo skydiving, on the other hand, requires you to complete a series of training courses and earn certifications in jump progression before you can dive alone.
2. Rafting
If you're looking for adventurous activities with a bit of a water element, then rafting might be the perfect fit for you. Rafting through rapids and down streams is an invigorating way to get your adrenaline pumping no matter which river difficulty level you're after. 
The sensation of being propelled through the water while experiencing the force of the rapids is both thrilling and rejuvenating. Plus, there are rafting sites all over the world, so you can easily find a location near you to try this activity.
If you're interested in trying out rafting as a hobby, the first step is to find a reputable rafting company that offers guided tours for beginners.
These tours often start with a safety briefing and a demonstration of basic rafting techniques, so even if you've never been rafting before, you'll be prepared to get out onto the water. It's important to listen carefully and follow your guide's instructions, as safety is always the top priority on any rafting trip.
3. Kayaking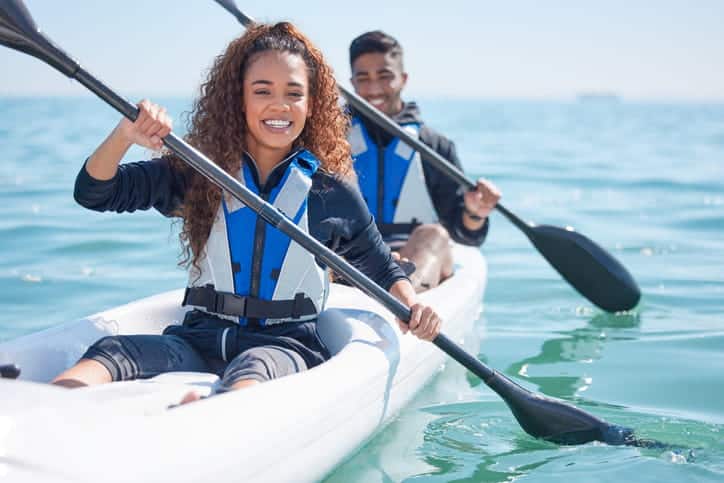 Kayaking is a great way to explore the outdoors from a unique perspective. It's one of the adventurous outdoor activities that's easy to pick up, whether you're into calm lakes or rougher waters. Paddling through streams and rivers allows you to discover scenic views that you might not be able to access otherwise.
Plus, kayaking is an excellent full-body workout that will improve your balance and coordination, making it an ideal activity to consider adding to your list of hobbies.
You can kayak with a tour group, on your own, or with a group of friends. If you don't have your own kayak, most rental companies provide basic training and instruction before you hit the water. Before embarking on a kayaking trip, it's important to be aware of the local regulations and safety risks that come with kayaking in unfamiliar waters.
Take the off-road journey of a lifetime with an ATV or 2-Seater Razor Eldorado Canyon in Las Vegas!
4. Axe throwing
Axe throwing — a recreation that involves hurling axes at wooden targets — may appear to be an unlikely pastime, but it's gained tremendous momentum in the last few years.
While it may seem somewhat risky, this activity is regulated to the highest standards, so you can trust that maximum safety will be ensured.
Besides, axe throwing will undoubtedly test your skills as well as refine your hand-eye coordination! So if you're up for testing yourself in something unique and thrilling yet safe, then axe throwing is absolutely worth trying.
5. Boating
Boating is a great way to explore the outdoors while relaxing and enjoying the water. Whether you're on a lake, river, or open sea, there's something peaceful about cruising around in a boat.
Boating can also be an adventurous hobby, especially if you venture into rougher waters. White water rafting, for example, is a thrilling way to test your limits on the water.
You may tour the waters with a group or go solo, depending on your experience level. If you're new to boating, make sure to take a safety class and get certified in boating safety before hitting the water.
Check out your local marina for rentals and helpful resources so you can start safely exploring the waters around you.
Explore the trails of beautiful Eldorado Canyon with the best Las Vegas ATV/RZR tour – just 45 minutes from Vegas!
6. Scuba diving
If you want to explore the underwater world, then scuba diving is the hobby for you. It's an adventurous activity that will take you to a whole new dimension underwater. Seeing marine life and coral reefs up close is an unforgettable experience that's hard to beat. Scuba requires training and certification, but it's a hobby worth diving into.
Start by researching your local dive shops and find out what certification courses they offer. You'll need the right gear to get started, so make sure to check with the shop for any discounts or package deals that may be available.
With proper training and equipment, you can discover a whole new world just beneath the water's surface.
7. Hiking
Hiking is an adventurous activity that can be enjoyed anywhere in the world. Exploring nature on foot is a great way to get some exercise and appreciate the beauty of the outdoors. With trails for all levels of experience, hiking can be a peaceful or challenging activity, depending on your preferences.
Depending on where you're located, you can easily find options for hiking near you. To up the adventure, you can add an off-road land tour experience that lets you cover more ground.
All you need to safely get started with hiking is a good pair of shoes and a water bottle. Make sure to plan your route and check the local regulations before embarking on a hike. This will ensure that you have an enjoyable and safe experience.
8. Helicopter tours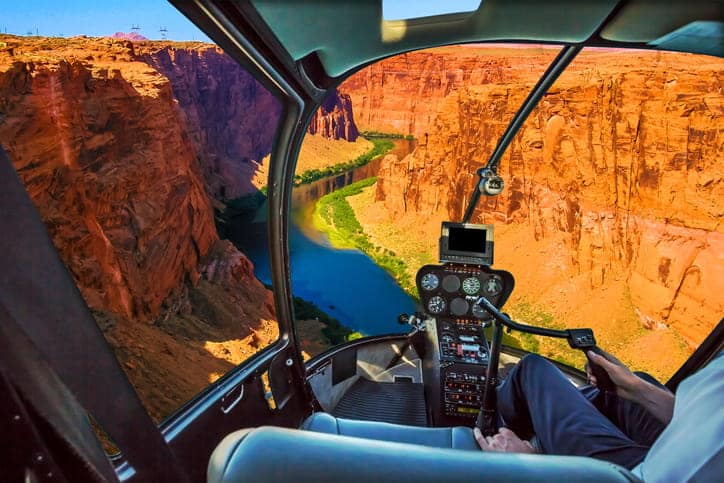 For a truly unique and thrilling experience, take a helicopter tour. If you're in the Vegas area, Nevada air activities are abundant and provide breathtaking views of the Grand Canyon, Hoover Dam, Mojave Desert, and even Sin City itself.
This activity isn't for the faint of heart, so it's perfect for those looking for a more adventurous activity that they'll remember for years to come.
9. Indoor skydiving
If you're looking for an adrenaline rush without a plane, then indoor skydiving is the perfect hobby for you. This activity requires no experience and can be enjoyed by all ages. You'll be free-falling in a controlled environment with one of the most advanced wind tunnels ever created.
It works by simulating the sensation of being in the sky without having to jump from a plane.
This safe and fun thrilling experience is perfect for anyone who wants to scratch their skydiving itch without any of the risks associated with jumping from a plane.
Unleash your next adventure with Awesome Adventures
Are you in the Vegas area wondering to yourself, "What are the best outdoor things to do near me?" Check out Awesome Adventures.
At Awesome Adventures, you can experience the thrill of traversing Nevada's rugged terrain with ATV/RZR tours just 45 minutes from Las Vegas. See the best of southern Nevada by exploring the stunning scenery and exhilarating trails. You'll have an extraordinary experience that you won't soon forget.
For more information, please check out the website for full details on everything Awesome Adventures has to offer.