What is a decent ATV quad tour in the desert?
Tired of surfing the web for your next adventurous activity and coming up empty-handed? We have the solution to your dilemma. Ever considered a quad ATV tour through the desert? Quad ATV tours are the ultimate adventurous activity. You'll be the driver during your tour and experience a time like no other! Nothing compares to the thrill you'll get soaring through sand dunes across the desert. During your quad ATV experience, you'll explore the untamed wilderness of the desert and witness some of the most magnificent scenery in a way you never have before. An ATV ride across desert dunes will give you the thrill and excitement of a lifetime and should be number one on your list of outdoor things to do near you!
What makes for a decent quad ATV tour in the desert?
Before diving head first into searching for an ATV tour, there are some things you'll want to consider if you want a decent desert safari ATV expedition. We have put together a list of factors and features that make up the best quad ATV tour in the desert:
Available packages
The first thing you might want to consider is the list of packages available. Are you in search of an all-inclusive full-day tour or maybe a less intense half-day tour? Once you've decided on the duration, you'll want to make sure your package includes the necessary safety gear. Proper safety gear is an essential part of ATV riding. Then you have the fun and convenient amenities to consider, like photo opportunities and whether or not lunch will be provided.
Customer service
Customer service is an often overlooked factor that can make or break the determination of whether or not a quad ATV tour is decent. Whether you're a newbie or a seasoned veteran of riding an ATV in the desert, you will most likely have some questions. You want those questions answered thoroughly and in a way you can understand, so great customer service is a no-brainer.
Tour guide
A great tour guide is the heart and soul of thrilling and memorable off-roading tours. You'll want a tour guide who is fun and enthusiastic and who is also knowledgeable about ATVs, including emergency situations, the terrain, etc. For a decent quad ATV tour, participants want to feel safe and secure during their adventure. A good tour guide is the determining factor of such aspects.
Vehicle options
Another essential aspect to note is vehicle options. A decent quad ATV tour will offer more than one vehicle option depending on your needs. If you're taking children with you on your off-road excursion, you'll want to have the option of a vehicle that offers more than one seat.
Budget friendly
You'll want to choose a tour that provides a memorable experience but won't leave dust bunnies in your wallet. Choose a tour that offers all of the amenities you're looking for at a price you're satisfied with. It would be difficult to enjoy your one-of-a-kind outdoor adventure if you're constantly thinking about breaking the bank.
Fun trails
Finally, having fun trails to race down and maneuver through is a must for any decent quad ATV tour. Make sure the off-roading tours near you have trail options that you will find fun and enjoyable. No one wants to take an ATV on a boring trail with flat terrain and no significant variations.
What the quad ATV experience offers
Every quad ATV experience is different depending on a multitude of factors. At Awesome Adventures, our quad ATV experience offers a large number of benefits. We offer all-inclusive half-day tours and full-day tours at Eldorado Canyon. We pick up at all major hotels and provide you with VIP treatment from start to finish. 
We offer 75 minutes of ride time for a full-day tour and 60 minutes of ride time for our half-day option. Lunch and snack options are available to include in your tour if you choose. We also provide plenty of water. It is the desert, after all, and hydration is essential. We offer two vehicle options. You can choose to ride solo on one of our ATVs or bring a second to ride along in one of our sleek 2-Seater Polaris 900 Razors.
If you opt for the full-day tour, you can take the Gold Mine Tour, the filming destination for famous movies, music videos, and photo shoots. Your energetic tour guide will take free photos throughout the entirety of your adventure, so you won't miss a moment of your memorable day trying to make sure you capture enough pictures to show family and friends when you get home.
Awesome Adventures is the only tour company that offers the excursion we do. You can search, but you won't find another company that has what we have to offer. We are unique and dedicated to being the best tour option for you!
What are the prices for quad ATV ?
Our tours are worth every penny spent. We understand that getting the biggest bang for your buck is an important determining factor when choosing a quad ATV tour. Our half-day tours last 4 to 4.5 hours and start at just $184 per person. Our full-day tour lasts 6 to 6.5 hours and starts at $254 per person. We provide a more thorough price breakdown on our full-day and half-day pages. Our tours are packed full of fun and adventure, making them more than worth the price!
When is the best time to go quad ATV?
When you want to go quad ATV is at your discretion. If you're looking for cooler temperatures for your tour, then November through April is your prime time. If the hotter temperatures aren't a bother, then May through October is always an option. Below are the times our tours are offered:
Full-day tours:
October through March: from 9 a.m. until 4 p.m.
April through September: from 7 a.m. until 2 p.m.
Half-day tours:
Every Day: from 9:30 a.m. until 1:30 p.m.
March to September: (7:30 am until 11:30 am) (9:30 am until 1:30 pm)
October through March: (9:30 am to 1:30 pm) (12:30 pm until 4:30 pm) (2:30 pm to 6:30 pm)
No matter your time preference, we have availability that fits your busy and hectic schedule, so you don't have to fear missing out on this one-of-a-kind experience.
Tips for visiting the desert and riding a quad ATV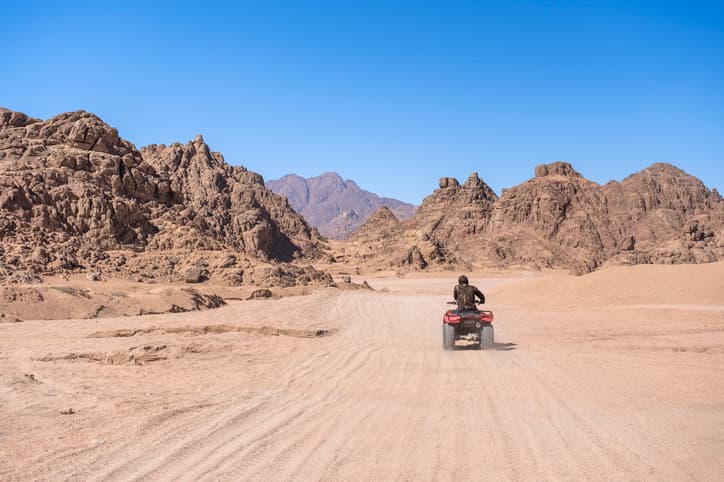 No matter your experience level, we want to ensure everyone stays safe. Knowing some helpful tips for visiting the desert on a quad ATV is always a good idea before you jump on and take off. Here are some of our top tips for making sure you have a memorable and safe adventure:
Start at low speeds and gradually increase your speed
Always wear protective gear
Never exceed speeds beyond your level of comfort
Engage the safety brake when ascending and descending for better control
Always wear closed-toed shoes and appropriate clothing for the occasion
Be prepared for changing sand
Never operate when alcohol has been consumed
Wear sunscreen
Stay with your tour guide
What are other extreme sports you can do in the desert?
For you outdoor extremists, quad ATV is not the only option for activities you can do in the desert. There are a number of other great extreme sports you can try your hand at to get that adrenaline rush going and your blood pumping:
Sandboarding: This is similar to snowboarding, but you descend on sand dunes and sandhills instead of snow.
Cycling: It requires a lot of effort, but cycling is a great desert extreme sport. There are even desert cycling competitions you can check out.
Trail running: You haven't been tested both physically and mentally until you've done a trail run in the desert.
Biking: Any sport becomes extreme when you take it to the sand and heat of the desert. Biking in the desert can be done on a mountain bike or a motorbike.
Awesome Adventures, located just outside Las Vegas, offers bucket-list adventures you don't want to miss. Book an awesome desert adventure today for ultimate extreme fun and memories that will last a lifetime!