What is the difference between an ATV and a UTV?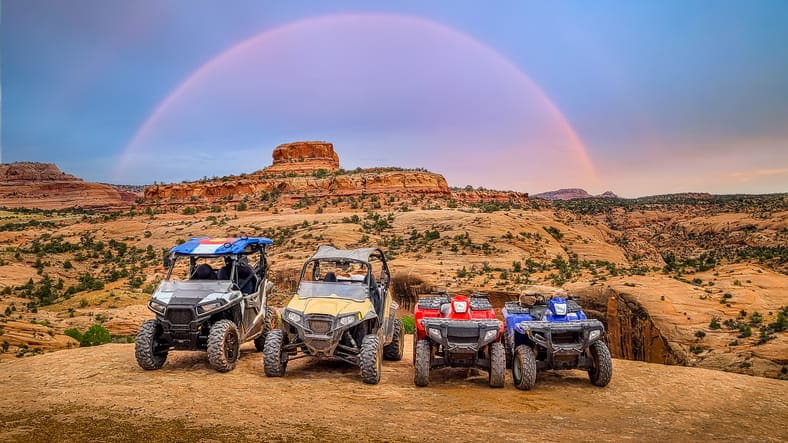 Most people know what an ATV is, but not as many people have heard of a UTV. What is the difference? First, let's start with what the letters ATV and UTV stand for.
ATV (all-terrain vehicle): "All-terrain" means they are designed to travel on all types of ground.
UTV (utility task vehicle): UTVs are also referred to as Utility Terrain Vehicles and can travel on all types of ground too, but are larger in size.
Now we can dive deeper into what each of these off-road vehicles is used for and explain their differences. One is not necessarily better than the other because it depends entirely on what it is you want to do. We are Awesome Adventures specializing in ATV tours. We'll cover all you need to know to help you understand the difference between an ATV and a UTV.
Are you looking for an idea for a corporate group event? Maybe you want to plan a unique bachelor or bachelorette party. We also offer Custom Group ATV Tours for your special event with 24-150 people, which is excellent for spending time outdoors in beautiful Nevada.
Try a thrilling ATV half-day tour with Awesome Adventures in Eldorado Canyon, Nevada.
What is an ATV?
An ATV is designed to handle one rider for recreational purposes. They come with handlebars like a motorcycle and have four-wheel drive (4WD). They are more compact, making it easier to navigate sharper turns. They are also lightweight and have lower ground clearance, yet are still rugged enough to handle obstacles on an off-road trail.
Where are ATV tours near me? Awesome Adventures outside of Las Vegas, Nevada has ATV tours. Even if you don't live nearby, you can visit us the next time you're in Vegas. Bookmark this website for future reference, and be sure to join us for a tour next time you're in Nevada.
What is a UTV?
A UTV is designed to hold heavier loads to move equipment around on land, such as a farm. They handle more like a vehicle and use a steering wheel instead of handlebars. They can hold 2-4 people, depending on the size. Equipped with 4-6 wheels and a higher ground clearance, they are well-suited for managing tasks on rugged terrain.
Where are UTV tours near me? Awesome Adventures outside Las Vegas, Nevada has UTV tours using Polaris 900 RZR vehicles. Make it a point to visit us the next time you fly into Las Vegas for fun.
Advantages and disadvantages of UTVs
Advantages: UTVs are sometimes called side-by-sides because there is room for passengers to sit next to each other, unlike an ATV. UTVs are built sturdier and sit on a stronger chassis with a better suspension system. They also have a stronger engine and more storage space. UTV vehicles are better for broader trail rides.
Disadvantages: UTVs are more expensive than an ATV because of the larger size and extra features that an ATV does not have. They are also not as easily maneuverable as the smaller ATVs. Maintenance costs may be higher due to engine type.
Differences between ATVs and UTVs
Aside from the obvious size and steering differences, there are also some key UTV vs. ATV differences between each type of vehicle.
Fuel power: ATVs are powered by gasoline engines making them less efficient yet more economical to maintain and repair. UTVs are powered by diesel fuel or electric engines, making them more expensive to maintain and repair, yet more fuel efficient.
Operations and use: UTVs can pull and haul up to 3,000 lbs. whereas an ATV can haul or pull from 500-1,000 lbs. For example, both could have a snow plow attached to the front of the vehicle, but where the ATV would be able to handle smaller clearing jobs on a driveway or sidewalk, the UTV could plow a whole street.
Suspension: The larger UTV can hold more people and weight with its larger suspension base making it more stable. The ATV has a shorter wheelbase making it more agile because it holds only one person.
Equipment: Standard equipment on an ATV includes a storage box on the back, a winch, and a plow. UTVs also have a storage box and winch, but since they seat multiple people, they come with bench or bucket seats. They also have a windshield and a protective roll bar.
Pros and cons
Consider the pros and cons of each off-road vehicle at a glance:
ATV
UTV
Pros: Great for single-person trail riding
Less expensive than a UTV
Better maneuverability
Pros: Great for multiple people trail riding
Efficient diesel or electric engine
Better wheelbase stability
Cons: Cannot haul heavy equipment and people around at the same time
Less efficient gas engine
Less wheelbase stability
Cons: More expensive than an ATV
Harder to maneuver around tight spaces
Costlier to maintain and repair
Deciding between ATVs and UTVs
If you are considering purchasing a UTV or ATV for yourself, there are a few things to consider. Below is a list of important questions to ask yourself to help decide which off-road vehicle is for you.
What will you use it for?
Will it be for fun and pleasure, or do you need it for work purposes too? An ATV is mostly used for fun and is limited in what it can haul or pull or hold. A UTV can be used for fun too, but it also has the capacity to hold more people and things.
How much are you prepared to spend?
ATVs and UTVs can range in price from $5,000 – $15,000.
How skilled of a rider are you?
If you have never ridden an ATV or UTV, you might want to try each one before you decide. Awesome Adventures outside of Las Vegas, Nevada has day tours to acquaint you with the vehicles. Come experience the fun for yourself. They can answer any questions you have about the difference between an ATV and UTV.
What road and trail conditions do you expect to ride on?
Do you live in a rural area? Or will you have to add drive time to a place for off-roading?
If you plan to haul your ATV or UTV to an off-road location, you might have to consider buying a trailer for that purpose. On the other hand, if you already have open land nearby, you'll be able to park your ATV or UTV on your property and take it out for a spin whenever you want.
How many people will be using the ATV or UTV?
If you have children, you might want to consider their ages and skill sets in handling the vehicles. Generally, it's not recommended to allow children under age 6 to ride on an ATV. There are youth-size ATV models made for kids ages 6 to 11. Age ranges from 12 to 15 have the highest rate of injury when riding on adult-sized ATVs. Those who are 16 or older are old enough to drive a car (in most states). They should understand how to apply safety rules when operating an ATV or UTV.
All factors considered, which vehicle is best for you?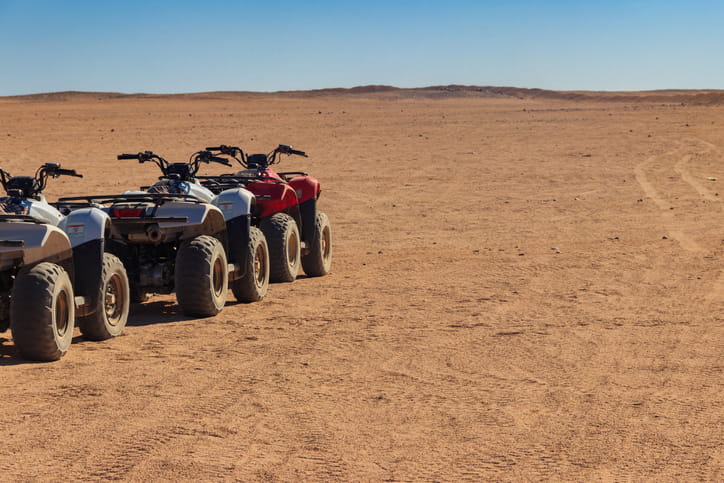 In the end, the decision is all yours, of course. You can see there are many differences between ATVs and UTVs, yet a lot of similarities because both are used in off-roading fun and adventure. At Awesome Adventures, we want to acquaint you with all the details and facts about ATVs and UTVs. We hope you feel better informed about trying out one of these vehicles or maybe both to compare.
Don't forget! Awesome Adventures offers several types of tours to go off-roading on an ATV in beautiful Eldorado Canyon, Nevada.

At Awesome Adventures, our tours fill up fast, so book your adventure today!