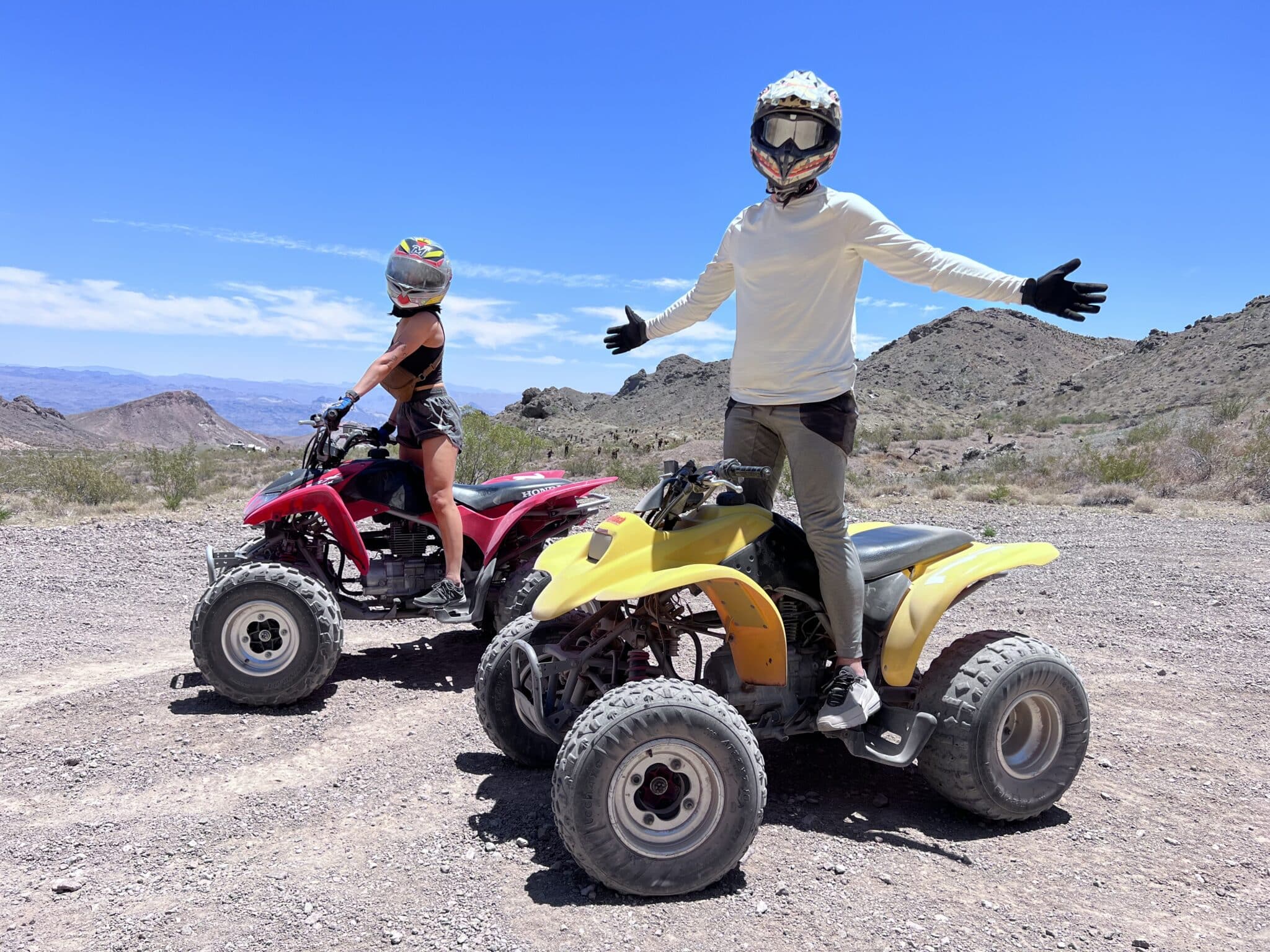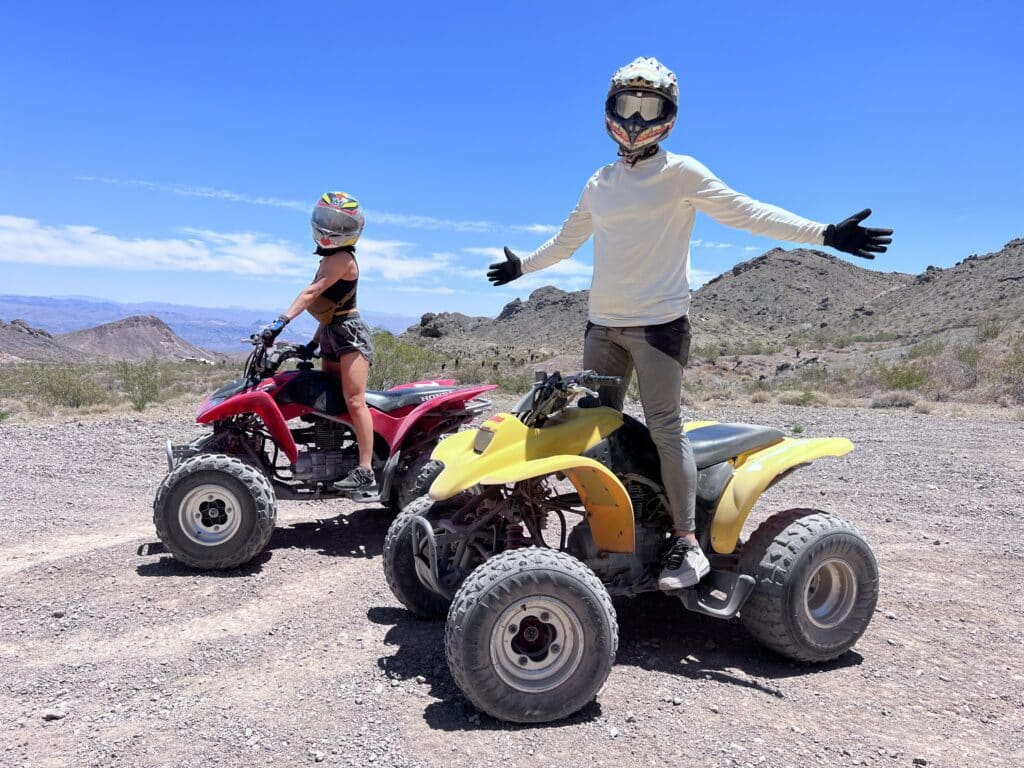 When you are out off-roading, you want the best performance vehicle you can find. ATVs are definitely fan favorites, and the tires are a big part of why they make such an enjoyable ride.
All-terrain vehicles (ATVs) with wide wheels can provide a more stable ride and improved performance in all sorts of terrain. With wider wheels, an ATV is better able to handle obstacles on the path, from sandy dunes to muddy fields.
Wide tires also offer enhanced traction, providing riders with better control and the ability to power through turns confidently. Let's explore why it's beneficial for ATVs to have wide wheels and what impact they have on riding conditions.
Experience 'ATV riding near me' in Las Vegas at Awesome Adventures with one of our full-day or half-day tours.
Why are ATV wheels smaller in the front?
ATV wheels are smaller in the front to help with steering and handling. The narrower width of the front tires creates less drag when turning, enabling riders to maneuver quickly and precisely.
Why are ATV wheels wider in the rear?
ATVs have wider wheels in the rear to help ensure better stability and traction on rugged terrain. This allows more power to be applied in transitioning from one side of a turn to another. Wide rear wheels provide greater traction during acceleration from zero to higher speeds.
The greater width of the tires provides a larger contact patch with the ground, resulting in improved grip on uneven surfaces such as sand, dirt, or mud. By adding more weight over the back end of an ATV, riders can better handle obstacles like deep ruts or rocks without compromising balance and agility.
Can you change the size of ATV wheels?
Depending on the type and brand of the all-terrain vehicle you have, it may be possible to change the size of the wheels. For example, suppose your ATV was built with tire-sizing flexibility. In that case, you can likely go up one or two tire sizes for better traction and different applications — from sand to mud and everything in between.
It is crucial to remember that when you change the size of ATV wheels more than one or two sizes, it is also necessary to do other modifications to ensure it continues to operate correctly and safely. You would need to install a new clutch kit and gear reduction kit to address the changes in gear ratios and power loss from moving up to larger tires.
Do you need a lift kit or wheel spacers with larger ATV wheels?
When larger wheel sizes are fitted on ATVs, a lift kit or wheel spacers may be needed to address the change in the center of gravity from higher ground clearance. If the larger tires are fitted without being accompanied by the appropriate suspension components, this can reduce safety and increase the risk of rollovers.
Installing a lift kit or wheel spacers will make the ATV more stable and help resolve issues with reduced turning radius from installing larger wheels.
Are ATVs street-legal?
ATVs are generally not considered street legal. Most jurisdictions have laws that restrict their use on public roads. That said, it is easy to find off-road tours like Las Vegas dune ATV tours. It is important to check with the Las Vega ATV tour company to determine what age you need to be to operate an ATV in Las Vegas.
Where to ride an ATV near me?
When you are looking for 'all-terrain vehicle rentals near me' that include a tour, look no further than Awesome Adventures Las Vegas ATV tours. We offer full-day and half-day 'ATV tours near me,' just outside the Las Vegas Strip area through the Eldorado Canyon.
What are the requirements for ATV riding near me?
ATV drivers must be 16 years or older and have a valid driver's license
16 and 17-year-old drivers must be accompanied by their parent or legal guardian
To operate a Razor, drivers must be 18 years or older and have a valid driver's license
The minimum age for riders is seven years old, or the rider must weigh 60 pounds or more
Any riders 17 and under must be accompanied by their parent or legal guardian
All drivers and riders must wear closed-toe shoes, boots, or sneakers
Long pants or jeans are recommended
Full-day tours include all gear, water, sightseeing, photos, lunch, and VIP service
Half-day tours include all gear, water, sightseeing, photos, and VIP service. Lunch and snacks may be added for an additional charge.
No prior ATV driving experience is necessary
All tours include transportation to/from your resort, hotel, or vacation rental property
ATV tours with Awesome Adventures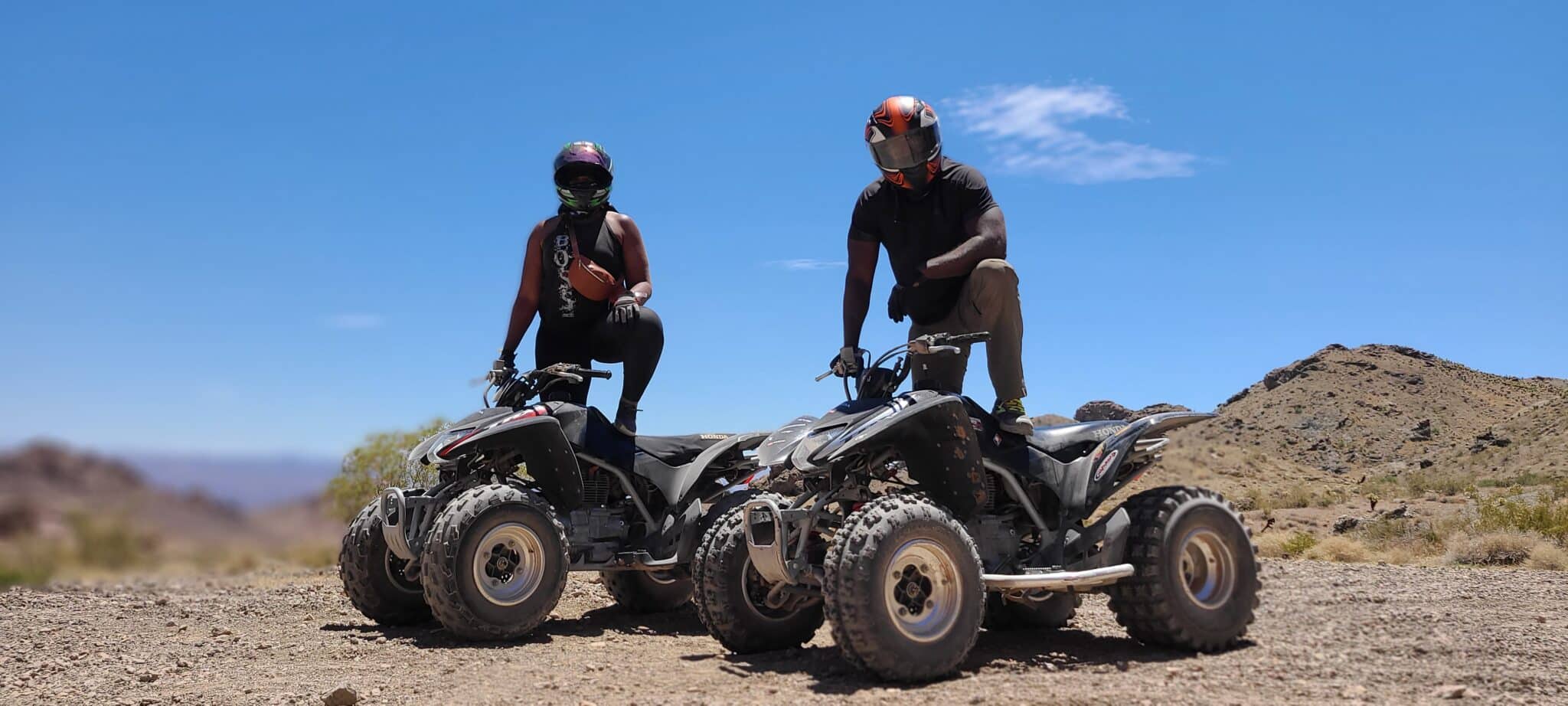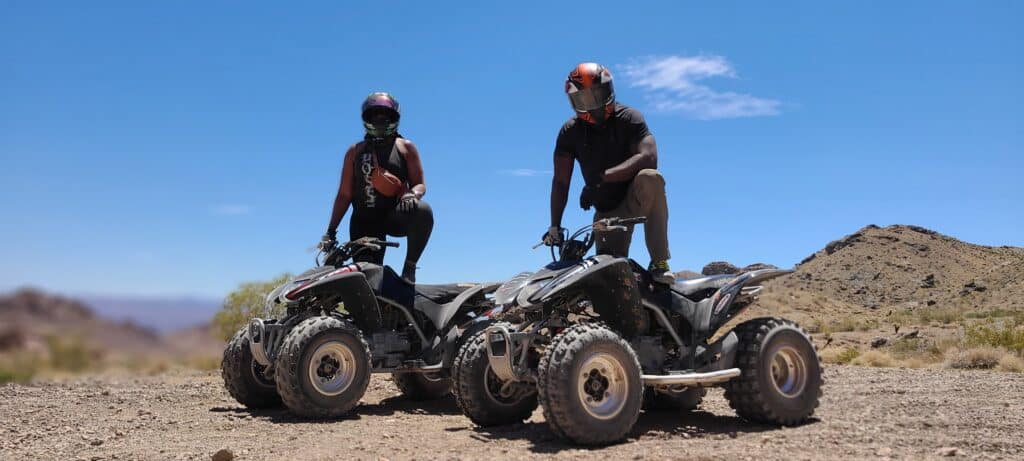 When you are looking for the 'best off-road tours near me' in Las Vegas, you can count on Awesome Adventures. You can even experience our gold mine tour, exclusive to our ATV tour company, where you get to travel back in time to the Old West and see where famous movies were made.
For further information about our Las Vegas ATV tours or to book, please feel free to contact us today.